On Seeing, A Journal. #384
An Article On Triptychs By Owen Edwards
August 4, 2020
For the last few months I have been assembling groups of three – triptychs — using some of my 
many archived images. I began these "re-creations" when the covid-19 lockdown brought my other 
ongoing projects to a halt. (A suspension of live shoots that has gone on longer than most of us
thought.)
I have written about these new three-part inventions in a few "Journals:"
Since this art form has always been an interest for me I decided to look back over my work of the last 30 years, wondering if I 
had created more than a handful.  To my surprise there are 100's!
Triptych, Bubbles (Bubble master, Louis Pearl)
The writer, Owen Edwards, a former editor of American Photography Magazine, whose writing 
about the art of photography has been published widely, recently wrote a piece about my triptychs.

The Magic of Three (by Owen Edwards)
My mother, a font of hand-me-down wisdom, told me many times that good things come in threes. Why this was so she never revealed, and I never questioned. But once one started counting in threes, the cliché began to fit into that triplicate pattern. Somewhat later in life I discovered that bad things also tended to come in threes, which let me think that after a trio of disasters – big or small – that the worst was over. Alas, this was not always the case.
But the number 3 has a near mystical place in European and American life. Three strikes and you're out. Three on a match. Three's a crowd. Three men in a tub. We three kings. And the focal point of Catholicism, the Holy Trinity.
This last may have been the underlying reason that the art of the triptych arose in the Renaissance. Great Italian painters such as Bellini and Vivarini and the haunted and haunting northerner Bosch used the expanded dynamics of flanking central subjects – the Virgin, for example, or a major saint, with two related panels – to powerful effect.
Not only did a triptych give worshippers more to look at and artists more space to show their talents (and gratify their donors, who often made cameo appearances off to one side or the other), but three panels could reveal inter-relationships (adoring lesser saints) and artistic convergences.
In later years, the triptych lost some of its appeal for painters, though the power of three continued to be expressed in music with chamber trios and three movement concertos, and in the predominant three acts seen in modern plays (and in a less obvious way in many movie scripts). More recently, however, triptychs reemerged in the arts in paintings by, among others, Francis Bacon, and photographers such as Duane Michals. And now, in vivid three-part inventions, by Howard Schatz.
The new (or renewed) interest of Howard Schatz in the triptych form is an illustration of the creative power of frustration. Schatz, a former physician with a well-developed "bedside manner," is, like Richard Avedon, one of those photographers who thrives on interacting with his subjects, whether models or dancers or athletes or movie stars. Beyond technical expertise, his ability to quickly establish empathy is the secret of his intimate and truthful portraits.
So, an unexpectedly empty studio stirred creative juices that sent Schatz on a safari through his archives, inspiring the artist to reimagine and reenergize his original images. And this has led to his fascination with the ancient triptych mode. The use of three versions of one portrait subject goes back to Schatz's many years of doing a popular monthly feature for Vanity Fair magazine, focusing on movie stars and stage luminaries.
With some exceptions, Schatz takes three approaches to his triptychs. One is to take a single image and repeat it with an overlay (or underlay) of different patterns and colors. 
A Triptych of Diptychs, R. Kelly
Triptych, M. Re
Another is to use subtle shifts of angles in three different pictures of the same subject.
Legs of Prima Ballerina Wendy Whelan
Portrait of Light middleweight boxer, Amir Khan
And the third is three photos of similar but different subjects, such as flowers.
From a fashion editorial
Another of these modes, a descendant of the Vanity Fair work, as seen in Schatz's triptych of the much-in-the-news Anthony Fauci, creates what can seem like a very slow-motion movie panning shot. Fauci is by now a familiar face to most Americans, but the three-part version makes us look again and offers a feeling of intimacy not often found in the many single pictures in encountered daily in newspapers.
Dr. Anthony Fauci
Some of the most powerful of the new Schatz triptychs have been assembled from his extensive collection of dancer portraits. The possibilities for arranging these are as rich and promising as choreography itself. Schatz has loved dance much of his adult life (some of his early work was with dancers from the San Francisco Ballet), and given a wealth of photos to choose from, he has been able to create triptychs that seem to be constant loops of energy and movement.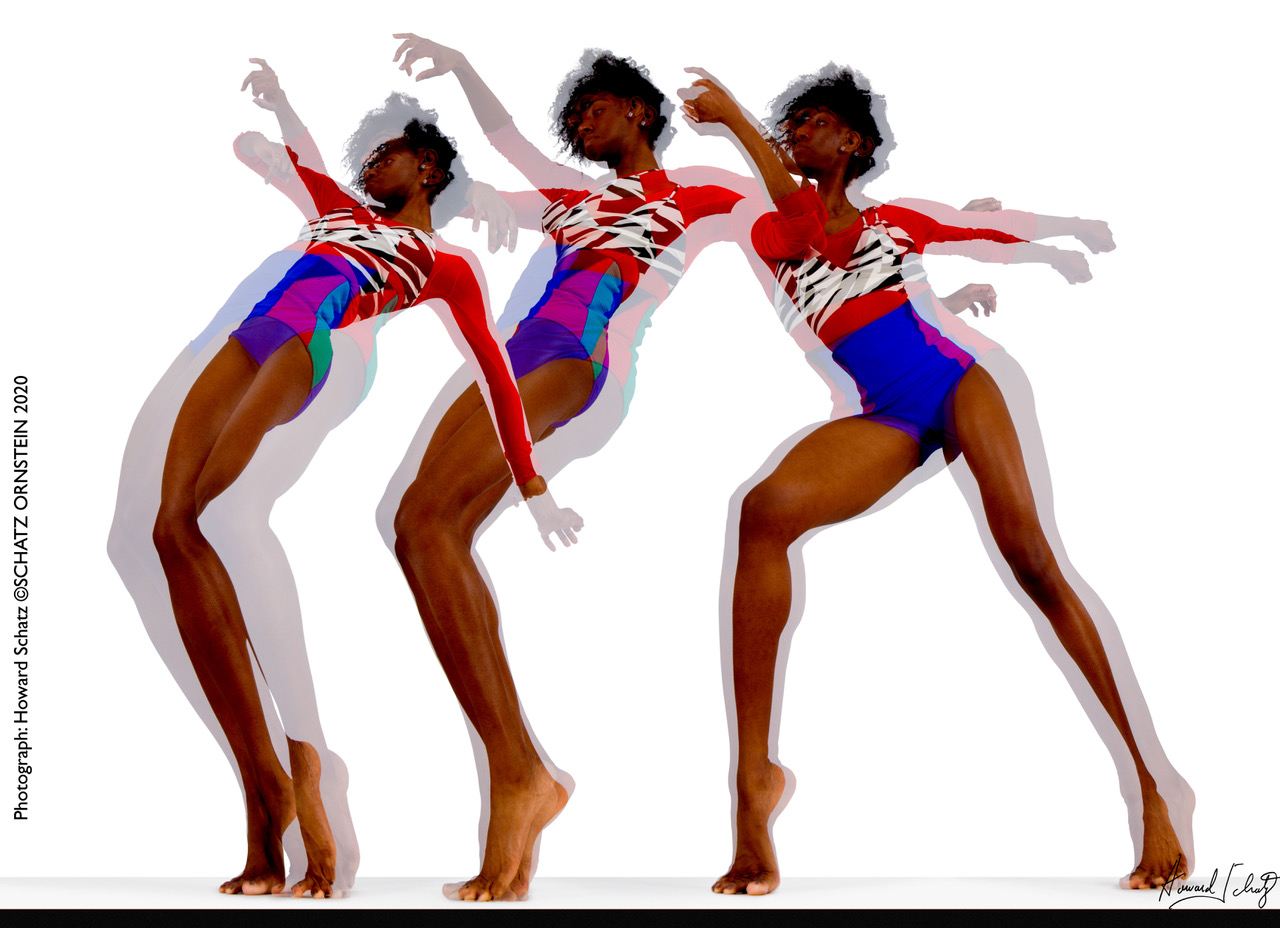 Dancer, Antonia Raye
Dancer, Shernita Anderson
Dancer, Yannick LeBrun, Alvin Ailey American Dance Theater
Finding an upside to the COVID closures is not easy, and no doubt Howard Schatz will be very happy when he can invite living subjects back to his studio. But creators create no matter what the obstacles, and lockdowns have unlocked a new way of seeing…times three.