On Seeing, A Journal. #435
Dance at the Guggenheim Museum
June 3, 2021
On March 19, 2021, the performing arts series, Works & Process, at the Guggenheim,  announced the return of live performance as a part of New York State's "Safely Bringing Back the Arts" pilot program. The series of performances take place in the Guggenheim's iconic Frank Lloyd Wright-designed rotunda. The reduced-capacity events were among the first indoor performances the state has permitted since it closed venues due to the pandemic a year ago, reaching a milestone in the recovery of the city's cultural sector.
On Friday, April 16, 2021, Beverly and I attended a performance of WORK, choreographed by Mark Morris, danced by members of his company.
Photographing from the third level.
The audience is scattered, 360˚ on levels 2, 3 and 4
New York City is returning to life,  awakening after a year of saddening hibernation.  The great museums were first to open, hesitantly, carefully.  Following, with numerous regulations and restrictions, have been movie theaters, performances (dance, theater), restaurants, etc.  What form city life will eventually take is unknown, though we are hopeful.
The Guggenheim museum has been hosting and presenting dance performance for many years.
The vertical object in the center/upper part of the image is a screen used for film. The accompanying pianist is at the lowest part of the image.
I walked upward and around viewing the performance from every possible angle and height.
From the highest level.
The performance ended, the audience applauded, the performers applaud the audience.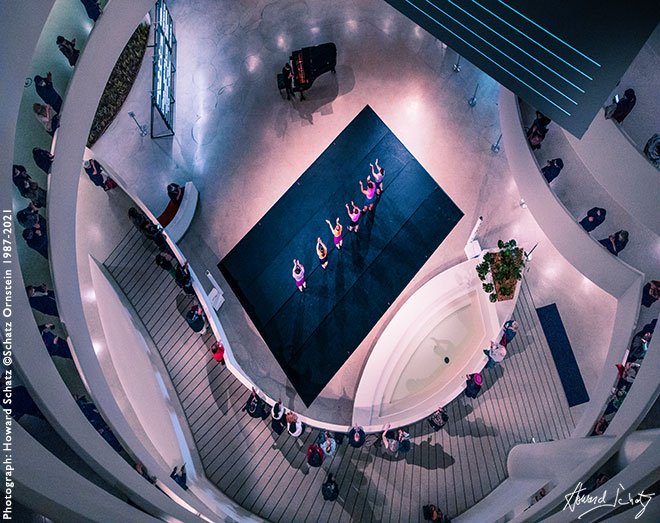 A wonderful mid-day interlude; evidence of the return of vital essence that is New York City.