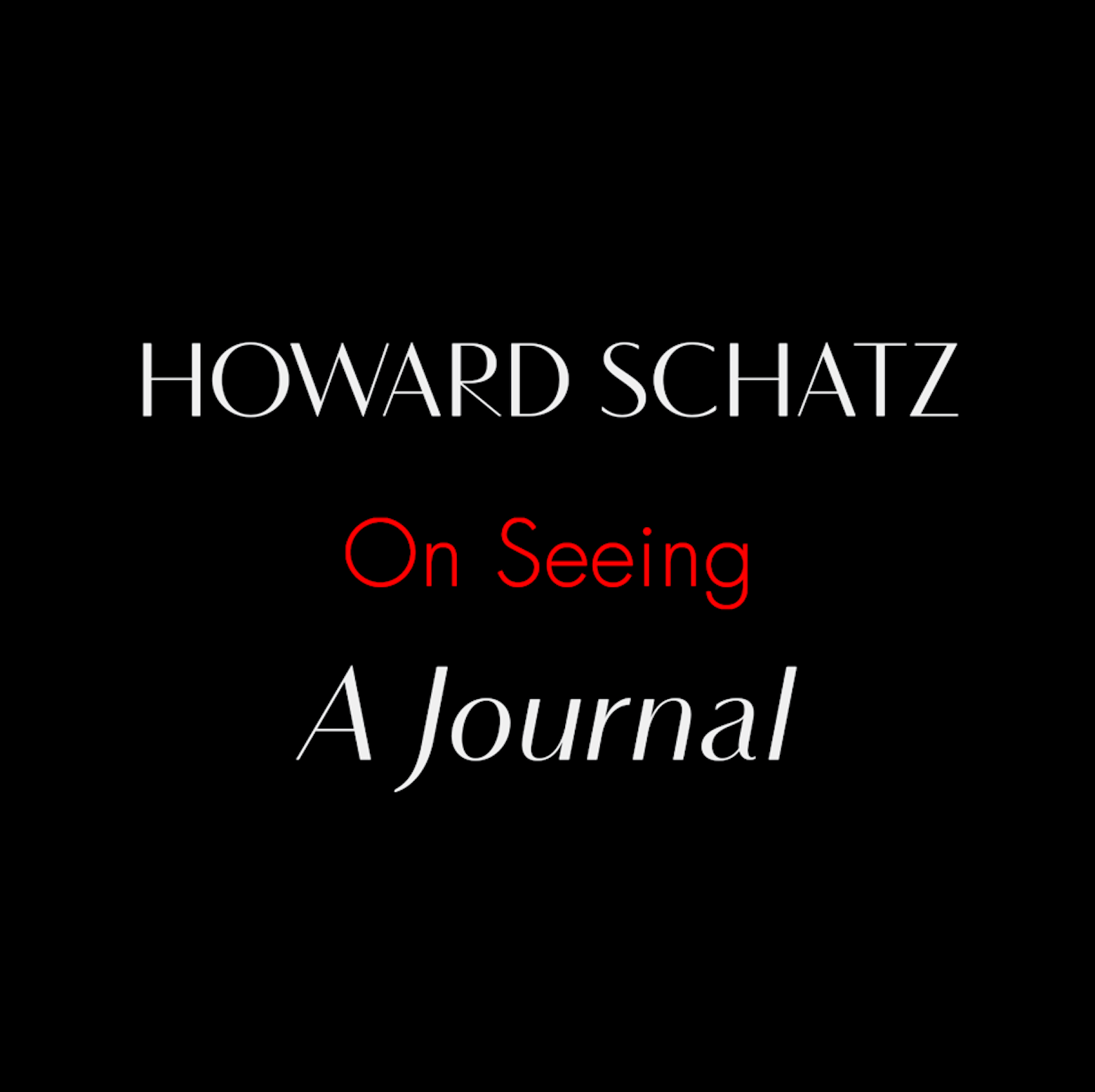 On Seeing, A Journal. #390
BODY PAINTING
August 21, 2020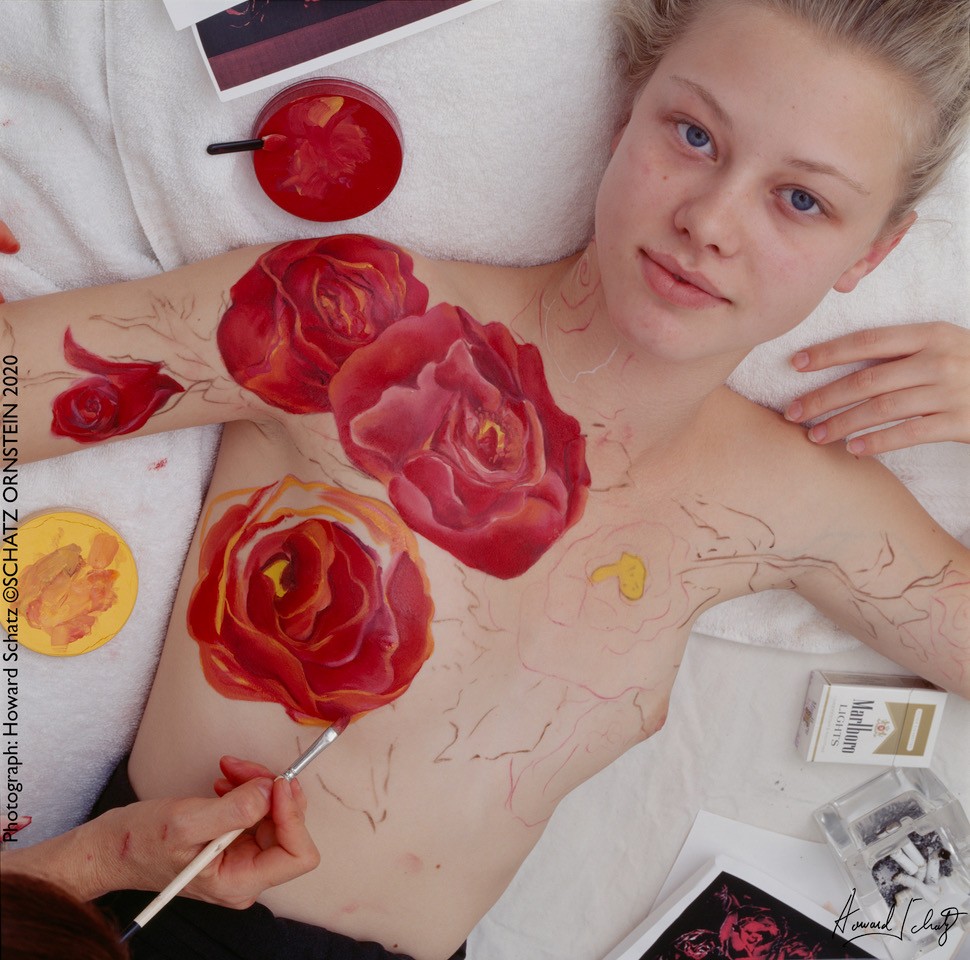 Some time ago in those blissful pre-pandemic days, I came up with the idea of having roses painted on a model, making a photograph, and then, in post- production, placing the image in a long white box as if the model were flowers being delivered to a lover.
I asked artist Joann Gair to paint roses on model Angela Midlow.
Joann is a extraordinary body-painting artist, sought after by clients all over the world.  For many years she was commissioned by Sports Illustrated to paint bathing suits on models for the popular annual swimsuit issue.
Joanne, at work:
The result of Joann's work, Angela's and mine: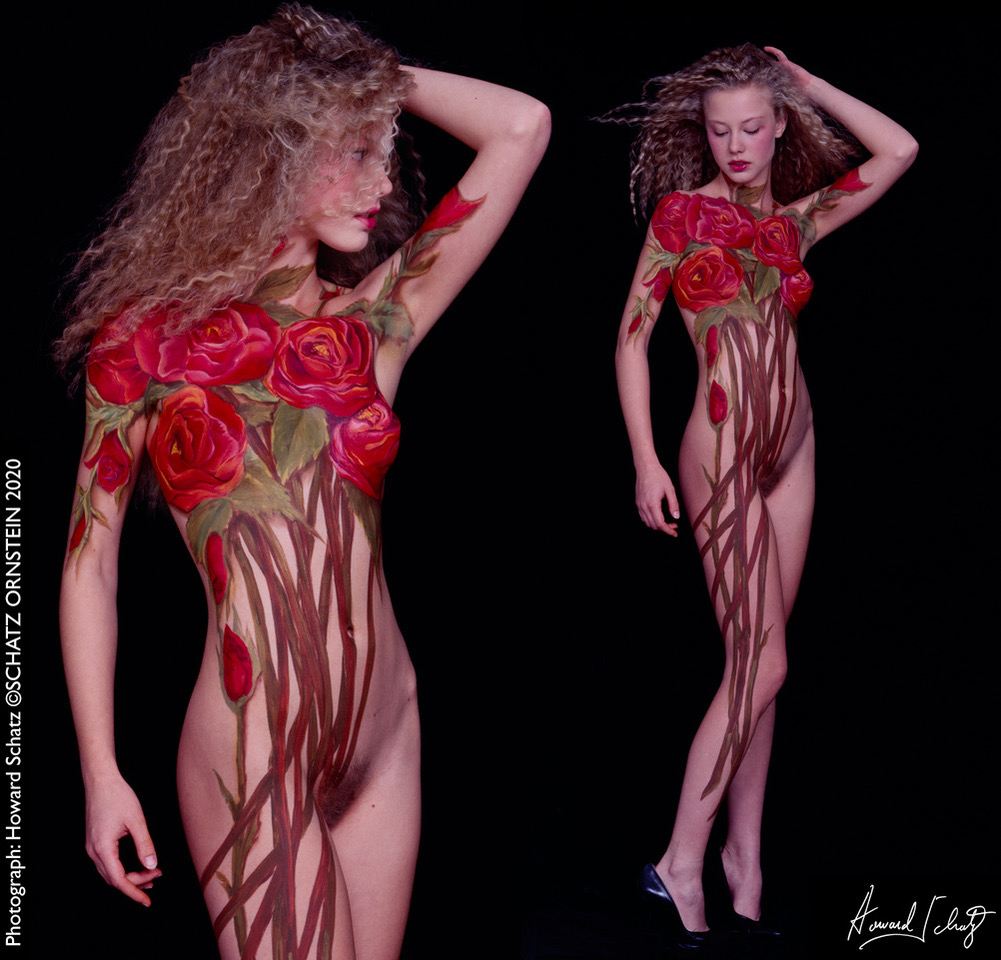 As intrigued as I was with body painting, for me there's an inherent problem: it just takes too much time and as a result I've only done it rarely for my personal work.  Of course, I would utilize body painting if I've accepted an advertising assignment in which the art direction requires it.
In the case of the roses, 11 hours were needed. I set the lighting for this photo-shoot and then waited, and waited…and waited. For what seemed an eternity. (And never mind how long it must have seemed for the model.)
That is the main reason I've learned to place imagery on bodies in post-production, something I can do myself in far less time.
The differences between the two approaches may be detectable though they are usually negligible. In Joann's case, they can be perceived because of her artful use of shadow. I've learned to place shadow, subtly, in post as well.  Necessity breeds invention, and improvement.
There are many ways of enhancing images, pre- and post-production: for the making of the photograph one can use various materials on bodies, lights and projection of imagery with strobes or slide projectors. After a photograph is made, i.e. in post-production,  graphic designs, fonts, images, and light patterns can be added.
All these are potentially wonderful and creative means. For the purposes of this discussion, I wanted to focus on meticulous body painting versus the addition of visual effect in post-production.  It's an argument, in a way; I don't see any reason ever to use body painting again, given what's digitally possible after the shoot. If you disagree with me, I'd appreciate hearing from you.
What follows are examples of photographs made with body-painting as well as photographs where images were modified in post-production. I reveal and explain the techniques in each image under "Answers, explanations, how it was done…." below.
See if you can figure out how I created each one before reading the answers.  For each one you get right, give yourself five points. Thus, a perfect score for all 20 images is 100! The only prize is bragging rights, but who doesn't want that?
And, please do write and let me know how you did.
Diptych #1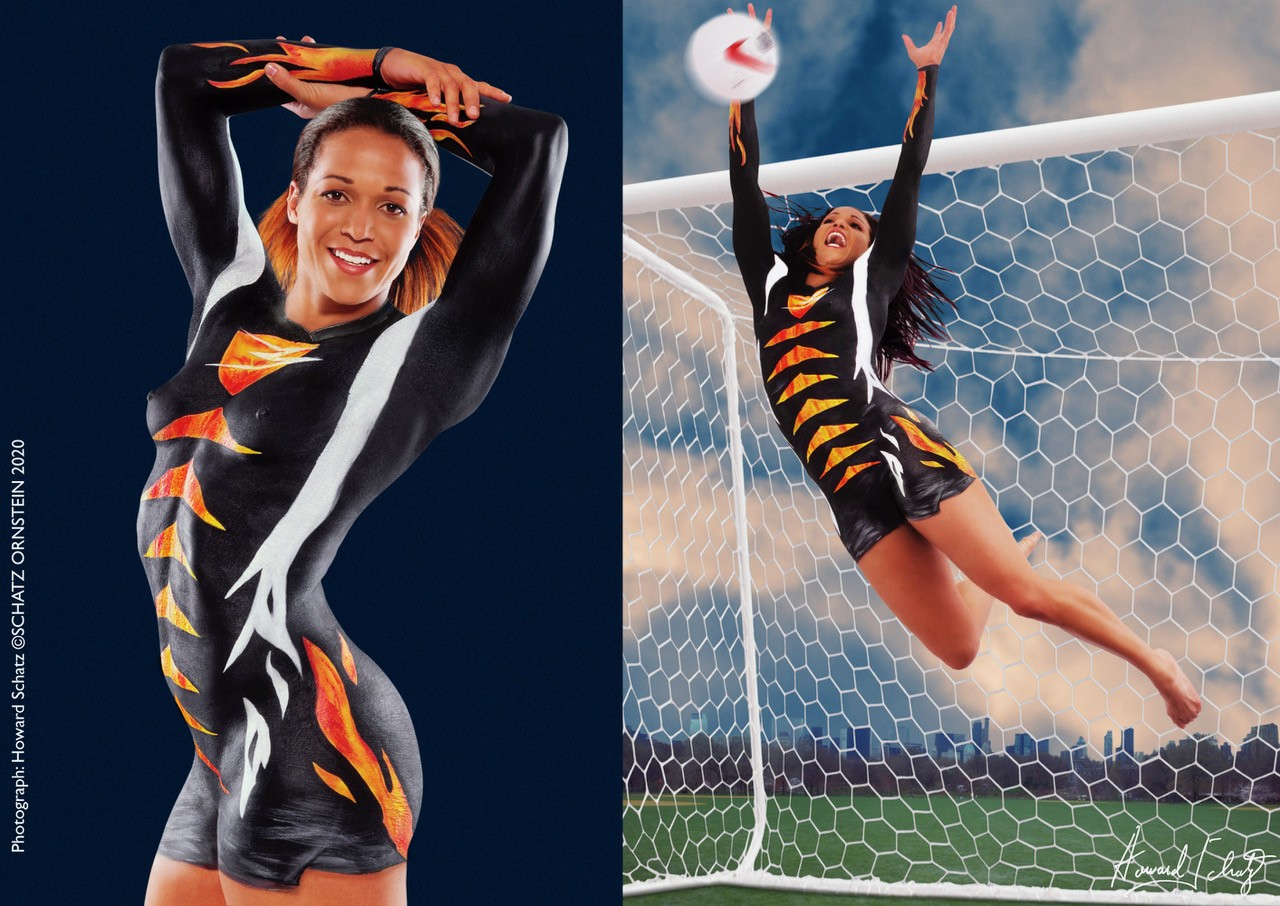 Diptych #2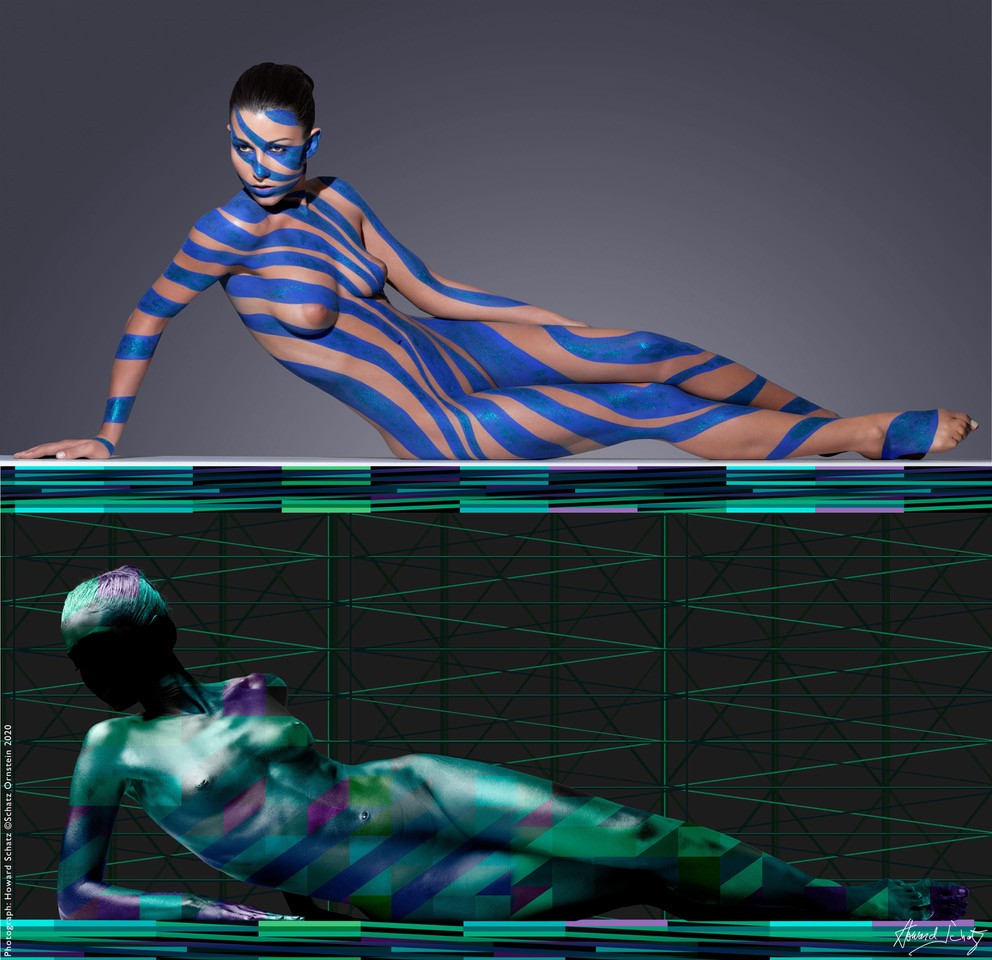 Diptych #3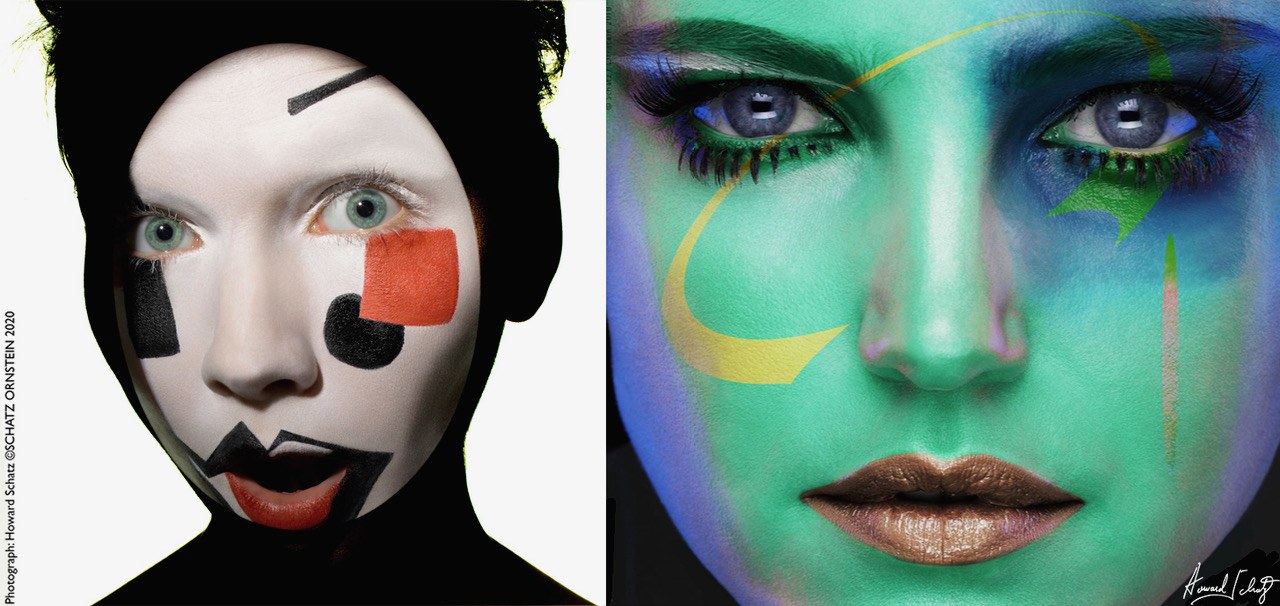 Diptych #4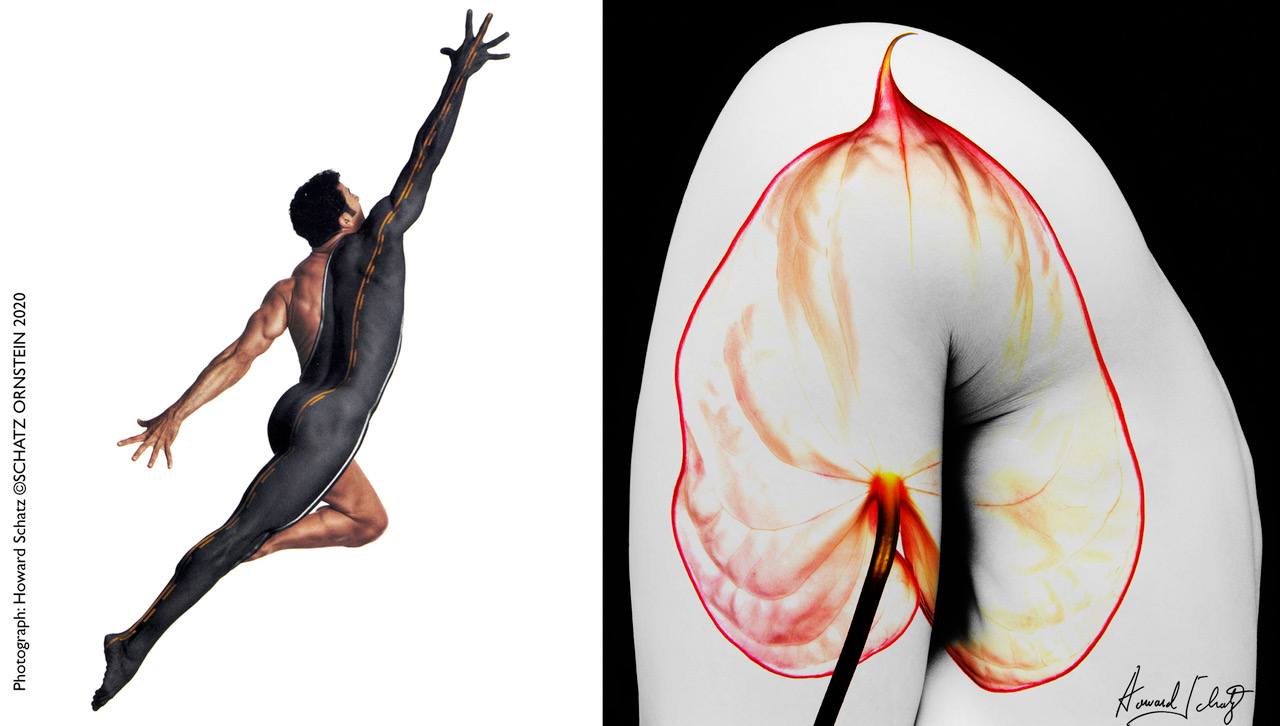 Diptych #5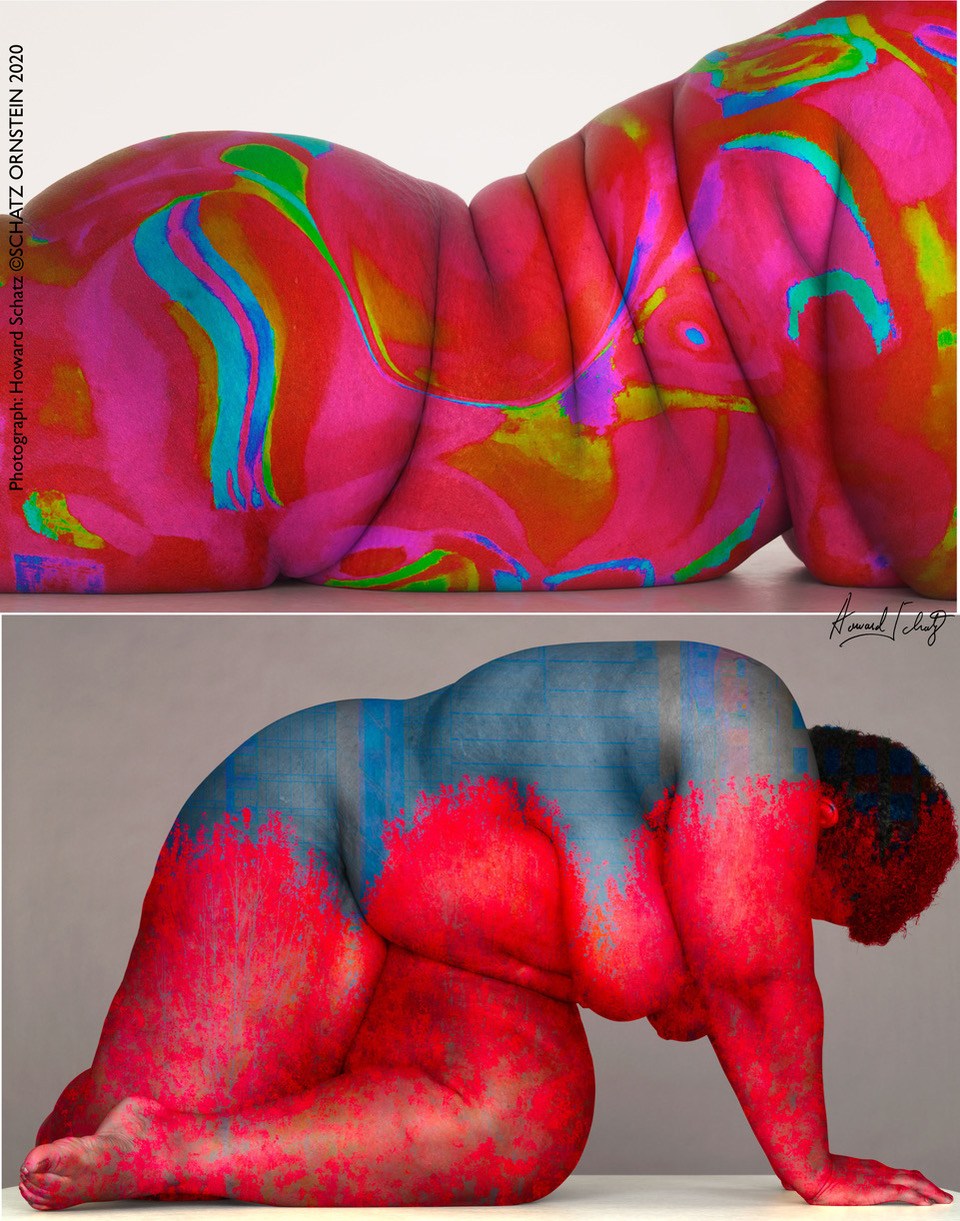 Diptych #6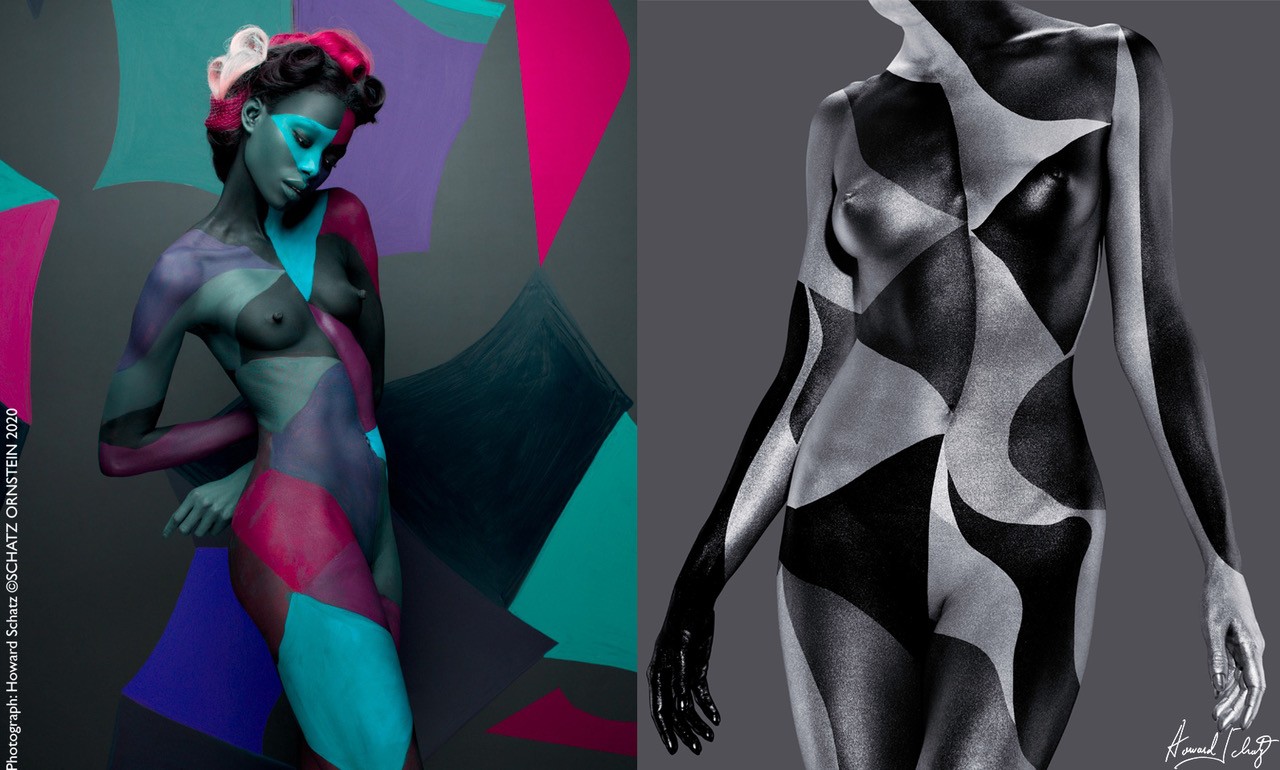 Diptych #7
Diptych #8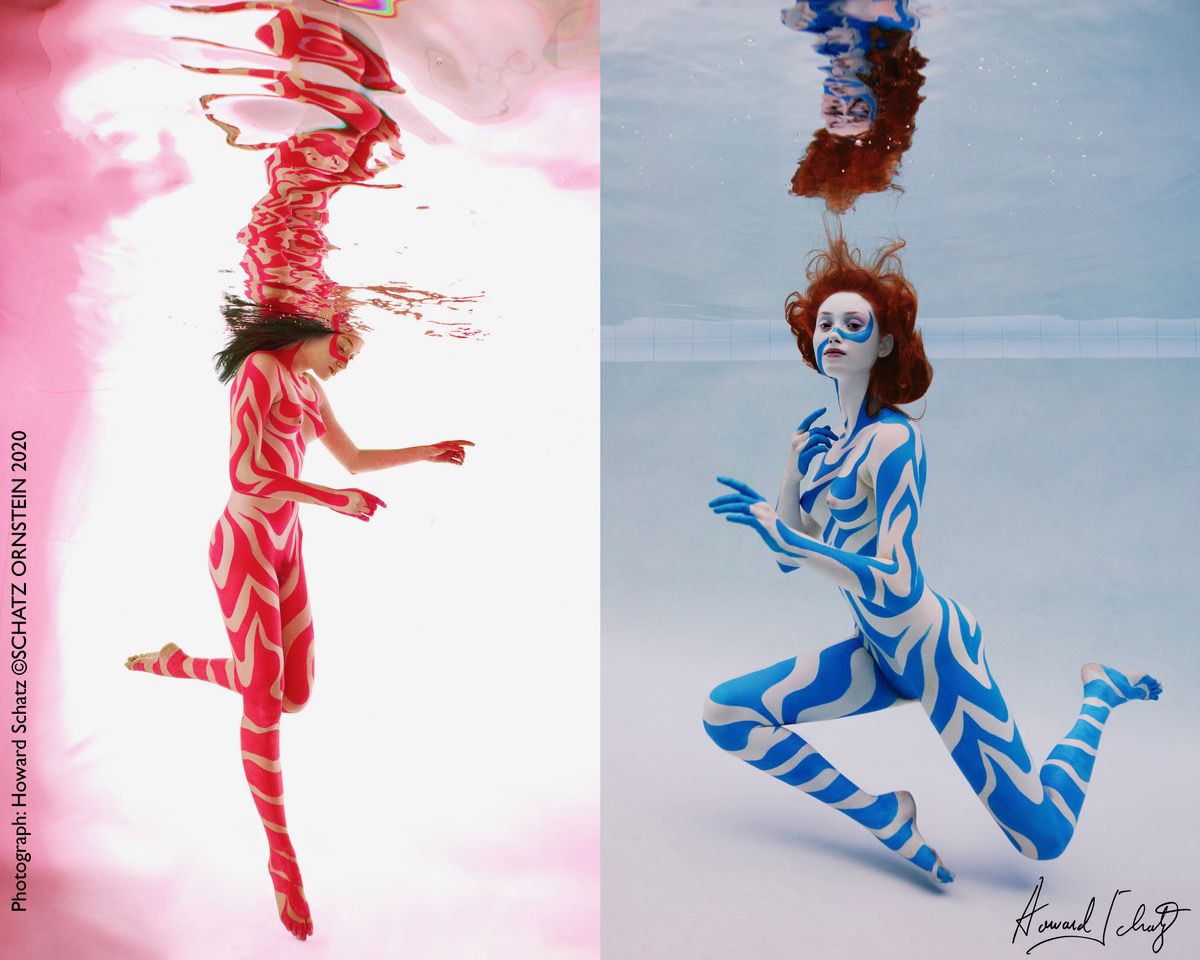 Diptych #9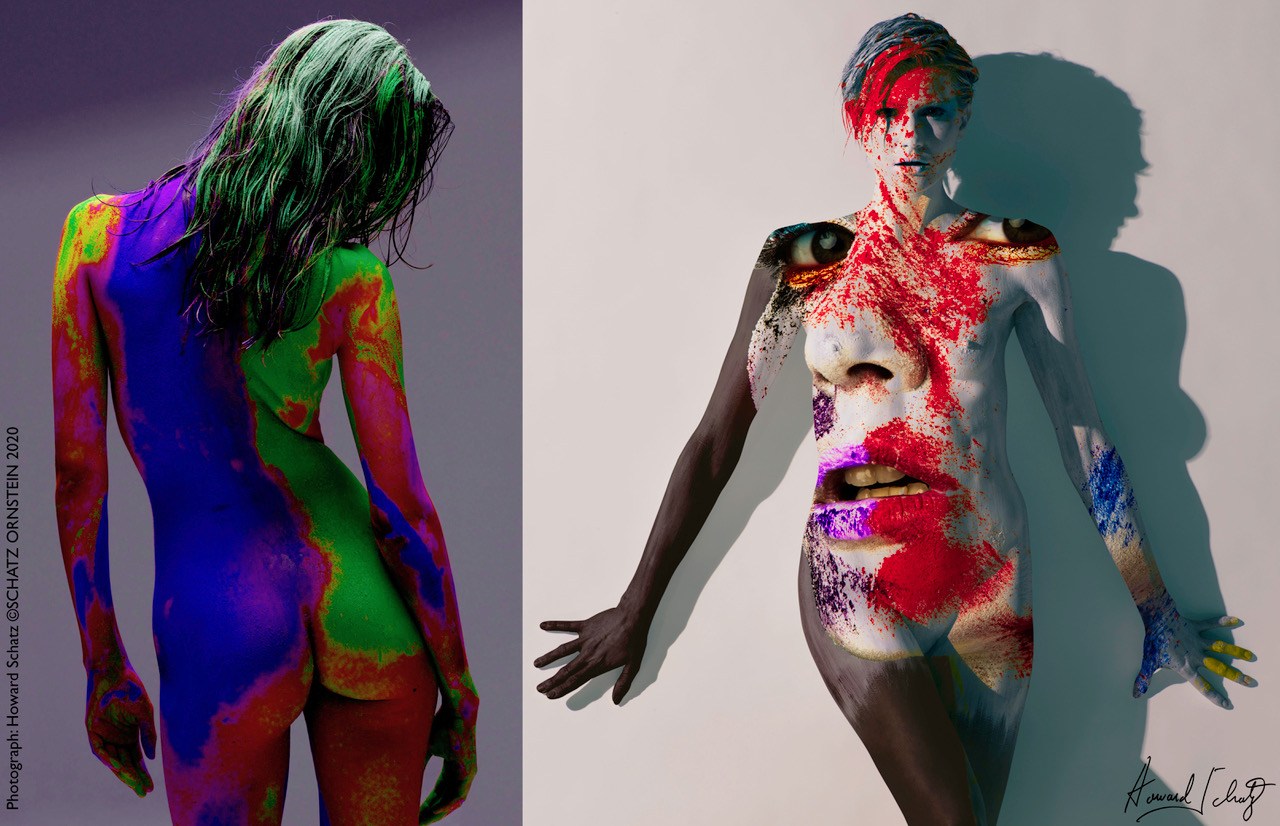 Answers, explanations, how it was done….
Diptych #1
Body-painting by Sylvia Pichler of US Soccer goalie Saskia Weber.
Note the subtle shadow on her leg just below the fold of the pants.  This is very well-done, artistic body painting work.
Diptych #2
Top image: Body painting which took six hours. I told myself, " I'm never doing this again!"  Though I have, reluctantly. Artist, Mizu, Model, Miriam Zereske
Bottom image: Created in post-production. Dancer Caitlin Mundth
Diptych #3
Left image: all make-up was done before the photograph was taken.
Make-up artist: Model, Anastasia Tsyrulnyk. The ring of light was made with a strobe light using a slide with a circle.
Right image (green): make-up of eyelashes.  I drew and created all the other work in post. Model, Janicke
Diptych #4
Each image was made by overlaying and blending digital imagery in post. The left image of dancer, Julio Agustin was made for an advertising campaign for Ericsson, and was entitled, "Extend Your Reach."
For the image on the right I overlaid an image of an Anthurium from my project and book, "Botanica."
Diptych #5
Each image: post-production. Model, Tangerine Jones.
Diptych #6
Left image:  Body-painting. I made a drawing of a graphic pattern and asked fine art painter Deborah Freedman to create the background. I asked the body-painting artist,  Patrycja Korzeniak to paint a duplicate of the design on the model, Sigail Currie.
Right image: post-production. I loved the graphic design so much on the model on the left that I decided to use it on an image I had made a few years earlier. Model, Melissa Re
Diptych #7
Left image: Air brush body-painting. Artist: Sylvia Pichler. Model, Alise Willis
Right image is of the champion body builder, King Kamali, drawn on the image in post-production.
Diptych #8
Each image body-painting. Artist: Jorge Serio;  Model, Francesca Tedeschi. Oil-based paint was used for these underwater photographs. The original paint color was blue, which I changed it to red in post-production, for the left image.
Diptych #9
With each of these images tempera paint powder was used as body-paint.
Left image model: Annika Kiernan. However, the second image was made by overlaying and blending in post-production a close-up portrait of the model's face onto the model's body.
Right Image: Model, Rebecca Iannacone