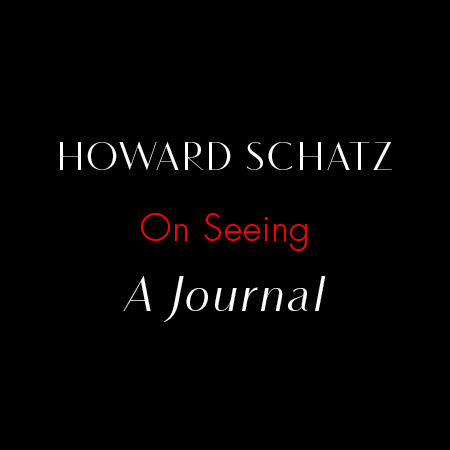 On Seeing, A Journal. #294
March 19th, 2019
Creativity As Fiction
Installation, #114, Frick Museum, NYC; NBN, 1377 and 1412.
Do they have the same thoughts?
Fact is seen, read, felt, heard;  reality is nonfiction.
That which is imagined, has not previously existed, has not "been", can not be seen, felt, heard, is not, is fiction.
Creativity, the engine of fiction; and the imagining that results from it is original, usually unique and not previously known to the world. It hasn't "been." I know that Descartes and others as well as neuroscientists (who can image through MRI and specifically locate the neural activity of thought and imagination) might argue otherwise. So, please, go along with my thinking on this, for now.
Installation #120, National Gallery of Art, Washington, D.C;
Dance Study, #1334, Samuel Lee Roberts.
Installation #101, MOMA, NYC; Adam Gopnik, #4.
Gopnik knows art—I feel he belongs here.
When an artist puts brush to palette, composer takes up pen and paper, sculptor places chisel to stone, pre-visualized fictions that exist in their imaginations begin to emerge into the non-fiction world that can be shared with others.
The images in this project were generated from my imagination: they are creative or "artistic fictions." Now that they exist in the world they've become nonfiction.
Installation #102, Madison Square Garden, NYC:
Boxing Study #1588, Tim Bradley.
Installation #97, Public Library, 42nd St, NYC; Very There Fashion Editorial, 008.
Couture in the Library; why not?
It is a rare creative, artist, author, composer who doesn't aspire and desire to have his or her book read, music played and heard, image (sculpture, painting, photograph, etc) seen by the world. It is within our human genome to desire, "look at me, see….!"As does any soul who makes something, I powerfully desire that the endeavors emanating from my mind's eye,  photographs that I make that are "made-up" and come from invention, vision, inspiration, innovation, imagination, trial and error, experimentation, be seen, and seen in the most viewable places.  Walls of museums, galleries of photographic art and ……. well, one wildly imagines.
Installation #113, National Gallery of Art, Washington D.C;
Dance Study 1329,  Jacqueline Green.
The incredible Ailey dancer graced my studio recently—
I couldn't love her and her brilliance enough. I thought this fellow felt the same.
Installation, #107, Art Institute, Chicago;
UW 3284, Shawnee Free Jones.
The images in this project began as fiction in my mind's eye; but you see them here because I have made them, and as such they became nonfiction. For now they are restricted to the world over which I have control: correspondence, social media, my web site, the walls of my abode, this missive.
Installation #39, NY Art Fair;
Beauty Study #1310, Anna Sophie, Mungenast
If he only knew what I saw…
Installation #105, National Portrait Gallery, Washington D.C;
Bill T. Jones, #1.
In the search for locations for my photographs I look for walls or spaces and then for what's taking place in the space.  The art that is already on the wall has no import for my project,  but the individuals looking at the art, or present in the spaces can make for interesting juxtapositions, combinations, fittings.
Installation #123, National Portrait Gallery, Washington, D.C;
Nude Studies #390, and #1468.
Installation #112, The Dia Beacon Museum;
Katja Halme, 005
I have had the gratification and delight of seeing my photographs published in magazines and displayed on the walls of  fine galleries and museums. The imperative to be seen, so common to creative artists, is never fully satisfied (I theorize). And with producing very large formats, once revolutionary when Richard Avedon first created them in the pre-digital age, now possible, I have found myself wondering how my pictures would look at monumental sizes in places that in my imagination could use some visual vigor.
As I walk around, especially in this magnificent city that is New York, I am forever seeing, with my mind's eye, places where my work might fit just right. This venture/project is the creative desire to envision things that haven't yet been seen – an artist's fulfilling fiction. After all, the photograph is real, and the place is real. Like the best written fiction, these combinations of art and actuality are based on facts.
Once I've completed one of these fantasy public "exhibitions," I inevitably ask myself the compelling question: Why not!
Installation #91, Art Institute, Chicago;
Nude Study #265 and Human Body Study #1501, Tyree Washington.
I wondered, what were they thinking? 
Installation #110, MOMA, NYC:
Dance Study #1324, Jacqueline Green.
Envy? Admiration?
Installation #106, National Gallery of Art, Washington D.C;
Aimee Mullins #3
Installation #98, NY Art fair;
Chris Conley, Wide Receiver, NFL, #7
Installation #122, MOMA, NYC;
Underwater Study #2617, Alison Clancy
Installation #121, National Gallery of Art, Washington, D.C;
Dance Study MR, DS
Installation #111, MOMA, NYC;
Dance Study 1330, Jacqueline Green.
My close friend and scholar, Michael Krasny, was visiting New York (from Northern California). We spent an afternoon at The MOMA.  He knew every Renaissance painting on the walls. He hadn't seen my newly created dance image of Ms. Green before.
This project is so rich!  And, I hope endless.